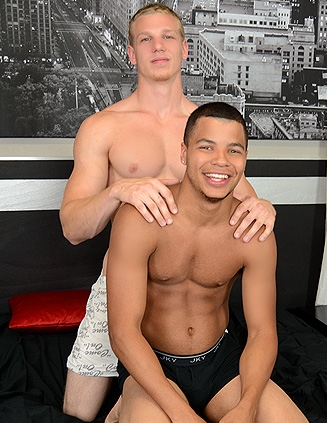 "Can't wait to get fucked in the ass."

When that is the first thing a BSB model says, expect sparks to fly. The above line is uttered by Kaden, he with the peach shaped backside. Next to him is New Jersey's own, Johnny "The Stud" Forza.

Kaden will be on the receiving end of Johnny's dick because he lost three games, in a row, of basketball.

The two strip, although, to be fair, Kaden takes his clothes off with more theatrics than Johnny. LOL!

"I swear, he's a stripper," Johnny says about Kaden.

When the two are naked, Kaden hits his knees and kisses Johnny's johnson. In no time, Johnny is sporting wood. Kaden slurps that meat puppet, making sure to stroke it. His wet tongue swirls the head. This makes Johnny weak in the knees, and grabs the bed for support.

"Suck my cock," Johnny commands.

Kaden doesn't need to be told something twice. LOL! The models switch positions. Kaden on his back, and Johnny over him. A perfect 69. Kaden resumes sucking and even smacks Johnny's chiseled ass. As for Johnny, he deep throats the newbie, causing Kaden's toes to curl.

It's time for the basketball loser to receive his "punishment." :-) Kaden gets on his stomach and Johnny saddles up behind him. Listen to how Kaden sounds when his booty is filled with raw NJ prime beef.

"Oh fuck, yeah," Kaden whimpers.

Johnny gives his bottom small strokes. However, Kaden is groaning and moaning. He grabs the sheets and his mouth is open from the shock.

"Shit," Kaden yells.

Johnny knows a bottom in need when he hears one. So he gives Kaden what he craves. Balls deep, of course. Kaden has never felt this good.

"Oh, my God," he whispers. "The shit is fucking good. Stick that dick in there."

A bossy bottom in the making? :-)

Johnny puts Kaden on his back and gets back in. The sausage splits that ass like a peach. And Kaden understands his duty is to let his top do what he will.

"Oh, my God," Kaden moans. "It's so good."

Johnny makes certain each down stroke is felt. All of this stimulation proves too much for both. They jerk their dicks, with Johnny shooting first. His man milk lands on Kaden's nuts and thighs.
As for Kaden, the first shot of his geyser lands on the bottom of his chest. The rest splatters all over his abs.

Johnny earns a peck on the cheek for giving the newbie a salami injection.

So? Has BSB discovered a new pass around bottom?