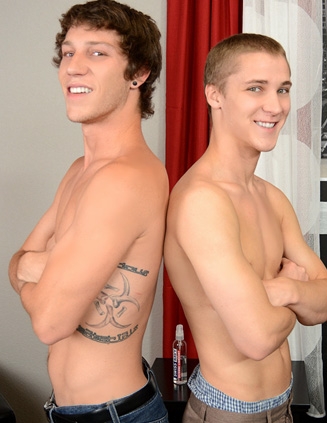 Look who is smiling into the camera today. Paul Canon and Ayden Troy. When those two are
around, something fun is bound to happen.

"It's good to have you both here today for an extra special treat," the cameraman says.

"We going to lick the cherries off the field," Paul says.

A rather cryptic, but pleasing, image, no? :-)

"Today Ayden is going to get his virgin hole popped," the cameraman explains. "And you're the guy
to do it."

Alas, he was only talking to Paul. There would certainly be a number of volunteers out there in BSB
land for the gig! LOL!

It took a year and a lot of cash for this day to happen. Ayden looks like a man who is
about to walk the plank. Paul doesn't help with his suggestions.

"My advice is just to think of strawberry fields," Paul offers.

With that out of the way, the two strip. After playing with their dicks for a brief moment, Ayden
gets to sucking first. As usual, his sweet mouth gets Paul all excited and hard.

"Oh, that feels so good," Paul notes.

Ayden keeps blowing through the compliment. Slurping and licking at the sensitive tip. He even
gags a few times, which is odd for such a pro.

Paul's turn is next. He takes all of Ayden's sausage, making sure to get it shiny with spit. Ayden
whispers filth as Paul takes care of him. Paul's own tool stays rigid during this oral maneuver. Of
course, that can't be helped. Ayden is giving him a reach around.

"I want to taste that sweet ass," Paul says.

Ayden gets into the doggie position and Paul rims away. He even uses a finger to tease the hole.
He might not want to get fucked, but Ayden loves when his ass is treated right.

The main event is finally here. Ayden gets on his stomach, that butt looking all helpless as Paul
finds the lube. He puts a condom on his tool and some extra liquid in Paul's man pussy. Paul goes
in slow at first. Ayden handles the initial shock, but when Paul starts going balls deep Ayden's legs
kick up.

Paul grabs him by the throat, oblivious to Ayden's curses and cries. Hard to blame him. Bet that
virgin hole is extra tight. Watch how Ayden's legs shake and shiver. He's being plugged real good.

Paul puts Ayden on his side, and continues deep drilling.

"Your dick is huge," Ayden whimpers.

He might be in pain, but Ayden's toes are curling on every down stroke. His prostate is getting
slammed the way it needs. Paul looks like he wants to lean over and give his freshly busted virgin
a kiss for the effort.

Ayden is put on his back, and Paul does more hole exploring. Give Ayden credit. He's not begged
for mercy in this deflowering.

"Oh, Paul," Ayden cries.

Is that virgin love calling? LOL!

Paul kisses Ayden's toes. This tenderness doesn't keep him from taking what's his.

Paul pulls out and jerks his meat. Ayden shoots first. Soon, Paul's nectar lands all
over Ayden's chest.

Ayden might be unhappy, but nothing looks sexier than his well used hole!