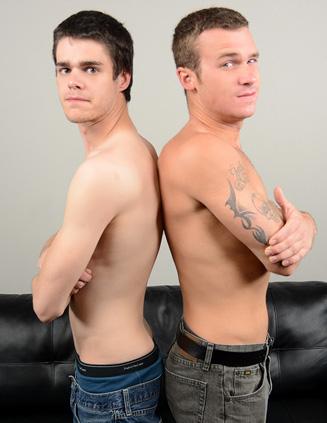 Romeo rapidly returns and is paired with the scintillating sexy Skyler. He will introduce the
newbie to pleasures of dick sucking. Romeo has no idea what to expect and looks like he wants to
run out of the room. :-) Skyler offers a few guidelines.

"Just put it in you mouth," Skyler says. "Go up and down. And suck like it's a straw."

Romeo ponders this for a moment.

"Okay. I'll try not to bite," he replies.

"Yeah, don't bite," Skyler says. With emphasis. LOL!

The two take off their shirts. Romeo must be getting a lot of sun because his chest is tanned.
Skyler sucks first and in a hot minute the newbie is hard.

"Oh, shit," Romeo moans.

Skyler licks that meat pole up and down, getting it slick with spit. Anyone notice how rarely
Skyler gags? It's like he was born to give poles oral love.

The boys get rid of their jeans and Skyler returns to work.

"Do you think you can do that good," Clay, the cameraman, asks Romeo.

"I hope so," Romeo replies.

He leans over and puts Skyler's shaft in his mouth. Romeo is tentative at first, but soon enough is
swallowing like a champ. Skyler is so pleased with the lad's work that he pulls him up and gives
him a kiss. Romeo, true to his name, returns the romance.

The newbie's own rod stays hard as he slobbers up and down the pole. He comes up for some air
and kisses Skyler.

"Your jaw hurt," Clay wonders.

"Yeah. my eyes are watering," Romeo answers.

He returns to the deliberate sucking, going farther down.

"Fuck," Skyler whimpers.

Skyler gives the newbie a break and returns to what he knows best. He hits his knees and deep
throats again. Even licks those cum filled nuts. After giving them a swipe, Skyler offers third kiss to
Romeo, which is returned. Is there anything better than straight men passionately making out? :-)

Skyler alternates form deep throating to jacking off the rigid tool.

"Keep doing that," Romeo commands.

Skyler doesn't need to be told that. :-) Romeo starts jerking his meat.

"I'm about to cum," he pleads.

Skyler grabs the sausage and jerks a load out. The first stream hits Romeo's stomach. Skyler
stands up to take care of his own needs. His nectar covers Romeo's chest.

"Damn, Romeo. "You got sprayed," Clay observes.

Usually our vids end here, but today we follow the models to the showers. There are questions
about how Romeo did. Clay also wants to know how he felt having cum splattered all of his chest.

"It was warm," Romeo notes. "It was like getting splashed with hot coffee."

As the two get all soapy, Romeo maintains Skyler sucks dick better than a girl.

"I'll take it as a compliment," Skyler laughs.

Romeo pauses when asked if he could be talked into more work. He then considers his financial
situation and says yes. There is a question about his hairy bottom. Skyler goes as as far as to
explore the hole with a finger.

"He's pretty tight," Skyler observes

Clay plays evil genius and suggests Duncan, he of the donkey dick, to loosen it up :-)

Finally, both rinse off the soap.

"All clean and shiny." Skyler announces.