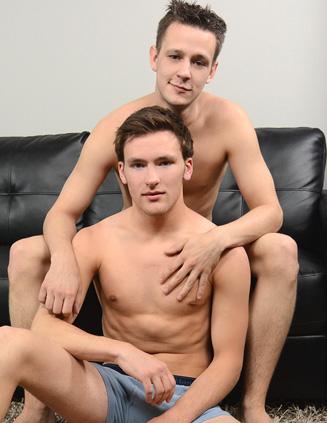 Here is a theory: whenever Jason Matthews in the BSB studios, the sun is always a little bit a brighter. Bet that is something that can be verified, no? :-) He's sitting on the couch with Ian Dempsey, someone who VERY soon will be able to dictate the sun's temperature (if he doesn't already do that now……LOL).

Ian is here because his truck, a vehicle made the same year "The Way We Were" had a run as a Billboard Number One song, needs a new transmission. His dad sold him this classic. LOL!

"Your father sold you a lemon," Jason wonders.

Ian answers affirmative. The cameraman promises to do his best to get Ian cash to fix his wheels.

There is a brief conversation about singing. Jason does a disservice to "I Believe I Can Fly." As for Ian, he's confused about the lyrics to "Mary Had A Little Lamb." The fleece part throws him off! LOL! This is all fine because no one is expecting either lad to be Cassandra Wilson (her CD "Another Country" is worth adding to your collection).

The two stand up and strip. They sit back down and kiss (a suggestion from the cameraman). The lip locking will get you hard. Does the same for them. Jason sucks first, taking all of Ian in his mouth. Ian bites his lower lip and moans. Jason gobbles that tool up like it's the last dick on the universe. He even gets spit and pre-cum on his chin.

Ian goes down next. He cups Jason balls and tries to deep throat like Jason did. He must be doing something right because Jason keeps saying "Oh, fuck."

There is some more romantic kissing, and then Jason reaches for a condom. He gives it to Ian. As he rolls it down his shaft, Jason makes sure to nibble on his scene partner's neck.

"Let's try something crazy," Jason suggests.

Jason gets on his back, facing the wall. Ian gets between Jason, and the wall, and aims for that inviting hole. From the moment the sheath covered head makes contact, Jason is squirming and moaning.

"Oh, God," Jason sighs. "Your cock is so thick."

Soon enough, Ian is pile driving down. Jason's foot strokes Ian's' chest. Each stroke is balls deep, so Jason feels every throbbing inch.

The boys stop for a moment. Jason grabs a condom for his baby maker. He pulls Ian in for a little smooch. Jason sits on the couch and Ian straddles him. His hole swallows Jason's whole dick.

"Oh, fuck me," Ian whispers.

Jason does so, even gives Ian a kiss for taking it all. Ian's butt cheeks shake from the assault and his cock could cut diamonds it's so hard.

Ian gets on his back and Jason gets back home. The boys interrupt the fucking only for kissing. Such romantics! LOL!

Ian shoots a load that makes the area around his belly button a juicy mess. Jason pulls out and his first cum shot hits Ian's shoulder.

Both guys are spent? Can you blame them? Fucking is a contact sport! LOL!