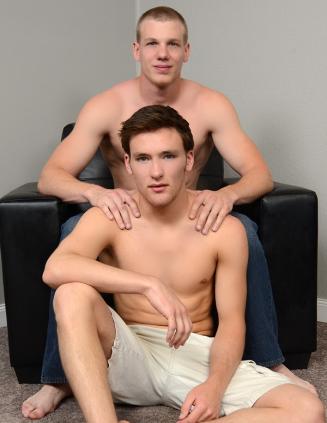 Has a BSB video ever started with a model singing? New Jersey's own Johnny Forza does his best Bruce by belting out a tune. How can he not sing? His scene partner is Ian Dempsey and he will be stuffing Ian's backside.

"I don't sing when I get fucked," Ian says.

You say that now Ian. Wait until it's over. LOL!

Johnny tags himself as the "brokest straight boy," a line waiting to be trademarked. The boys strip and Ian hits his knees. His tongue gets Johnny's staff hard. At full mast, it's hard for the newbie to deep throat. However, Johnny holds Ian's head and guides him. As for Ian's own sausage, it plumps the more he sucks. Who doesn't love a boy who is excited with a pole in his mouth?

Johnny's sculpted body tenses up with each lick. Ian stands up and gets a kiss for his efforts. He heads over to the bed and gets in the doggie position. Johnny puts on a condom, but pulls the bottom off the bed. Ian's feet are on the floor, and his ass sticks out. In one slow thrust, Johnny is all the way in. He immediately plunges in, balls deep. Ian's mouth is open from the shock. His dick? Straight out because his prostate gets slammed.

Ian takes control of the fucking, backing his booty up. Johnny regains control and Ian grits his teeth.

"Get on the bed," Johnny says as he gives Ian a smack.

The bottom does so, without a complaint. The New Jersey stud grabs Ian's hair as he plows that ass. Ian gets on his stomach, so Johnny can get in as far as possible. Ian's mouth stays open as he moans filth. Bite that pillow, Ian! Bite it! LOL.

Johnny alternates from short to long strokes. Ian's ass has never been so abused. He gets on his back for one last round. Johnny puts his hands on Ian's ankle and thigh. He's lost in that moist man pussy. There's only so much Ian can take. His load explodes, coating his stomach in juice.

Johnny pulls out and strokes out a cum explosion that lands on Ian's meat.

As for Ian, he will need some time to recover from this pounding.

"It's kind of sore," Ian says about his well used hole. "I won't be able to to walk for a week."