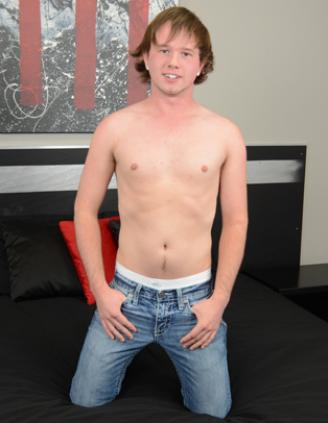 Brayden Brax is a Montana lad. The Big Sky Country cutie isn't a talker, but is broke. So he's with
us for a a quick cash infusion.

He likes country music, Mexican food and cars. Isn't it easy imaging him in a big cowboy hat, tight
Wrangler jeans, driving down some highway in a GMC pickup? And the Los Lonely Boys must be
blaring from the radio! :-)

He jerks off everyday. As he describes his daily routine, Brayden takes off his clothes. His soft tool
is impressive for it's size. When it gets hard the fat sausage is even more impressive, especially
with its curve! Look at the dick's tip. Nice and meaty. The type of meat a good cock sucker would
love to deep throat. Country boy is representing his state!

Brayden fucks his hand. His breathing is getting labored. When asked to get on his stomach, he
does so rather quickly. His hand keeps stroking his pole. Hard not to notice Brayden's plump,
hairy, butt cheeks. He spreads them when asked. Even plays with that hole. Notice how his moans
get louder when he fingers himself? Someone likes to have his boy hole filled! :-)

Brayden gets on his back and returns attention to his meat. He tugs those hefty balls and rubs his
chest. Occasionally he'll look at the camera, but soon enough he focuses on busting a nut. His hairy
legs shake and his hand picks up the speed. When he shoots, the first stream lands on his chest.
The rest coats his stomach.

So? Should this Big Sky Country boy come back to show us what he really can do? LOL!