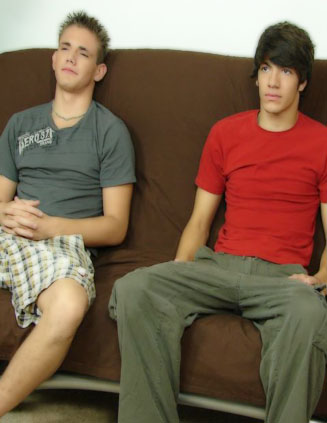 I was able to get Alan and Nikolas to come in to do a duo shoot, by telling them that I had a girl that was interested in seeing what they looked like. As they arrived to the studio I had them take a seat on the couch. That is when I explained that she wanted to see them in a shoot together before she would agree to do a scene with the two of them. Starting the camera right away, I didn't want to give them a whole lot of time to think about it. I had them remind us who they were, and we found out that they're broke college students that are looking to make some easy money. Alan seems like a very smart guy, for what he wants to get into as a career and where he goes to school. I just had to give him shit for being so smart and broke at the same time. I then told them that this was going to be a simple shoot and that they could possibly jerk each other off, and give each other blow jobs. They both said that they weren't down, but with talk about more money their minds started to open up. Standing up they got undressed for the camera completely and then took a seat back down on the couch. Jerking off next to each other, both boys made some funny faces due to jerking off next to another guy for the first time.

Alan was the first to reach over and take Nikolas's cock in his hand. Moving his hand up and down he would change up the way he jerked off, but both kept trying to get out of trying to touch each other. Alan wanted to stop, but I told him that he had to earn the money that I was paying him. Just a few seconds later then Nikolas asked how long he had to let Alan touch him. I told him that he had to hold up his end of the bargain, so Nikolas reached over and started to stroke Alan's cock. They both were staying rock hard, even when talking about doing all of this weird stuff.

Now, I wasn't going to stop at the two really hot guys just jerking off, I wanted to see them in some more action. I brought up the idea of them giving head to each other and they stopped what they were doing. They told me that it wasn't going to happen, but then I put $1500 on the table and they started to change their minds. I raised the pay up to $1800 and then they were closer to doing it. Both of them, had some major bills that they had to pay, so we agreed on a final amount of $2000 for giving head to each other. I told Alan that he was going to go first, since he was the one that brokered the deal.

Changing position he turned his body, so that he was facing Nikolas. Taking Nikolas's cock in his hand he lowered his mouth down to it, pulling away a couple of times. Nikolas turned away because he didn't want to watch what was going to go on. Alan began on putting a little dick in at a time and working his way down the shaft. He started to get some up and down motion going on. Then, he pulled away, acting like he had a hair ball in this throat. He was doing a good job, but I told him to move and get down on the floor right in front of Nikolas. He did and then it looked hotter to watch the blow job going on. Nikolas would look around the room and would watch him out of the bottom of the eyes. Both guys wanted it to stop, but I told them to keep doing. Alan was good giving head for the first time and that was nice to see that he wasn't being a completely pussy about it, and was sticking the dick all the way in his mouth.

I told them to switch and Alan got back up on the couch. Nikolas leaned over and took the cock in his mouth. I noticed right away that Alan was able to get back fully hard as Nikolas's mouth sucked on his cock. Nikolas was being a wimp about it. I figured that it would be hot if Alan would jerk off Nikolas at the same time that he got head. They were able to do that for a few minutes. Switching things up again I had Alan give head to Nikolas once more with him standing. Alan jerked off while he gave the blow job and gagged a little while doing it. Nikolas made fun of Alan for doing that, but then the two of them switched places. Alan made fun of Nikolas a little bit as well to make up for his criticism.

Sitting next to each other I was ready for them to give me a cum shot and this was going to be a good pair. The two of them started to stroke their own cocks to get close to giving me a really good ending to the scene. Nikolas did short little strokes and then Alan did slow long strokes. Nikolas actually used two hands to jerk off at one point and that made his dick look a lot bigger. Nikolas was the first one who blew his load on his lower stomach with no warning, and with in just a few short seconds Alan shot his load on his chest. I was glad that they both were able to get off, and that they want to come back again to do some more work their only stipulation was that it be with a girl next time.