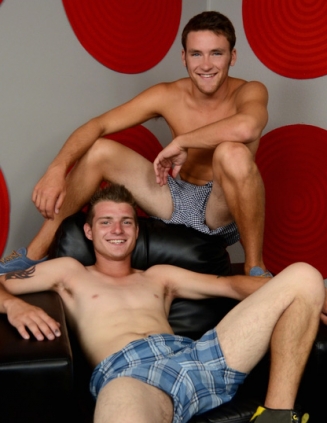 No chitchat to start this vid. Just two hot studs making out. Ian Dempsey and Tristan Stiles are the
dudes kissing like there's no tomorrow.

The two make out on the chair, standing up, on the bed, and standing up again. If you like a little
romance in your porn, you will groove to this introduction. :-)

Ian, who hasn't been around for awhile, gets on his knees and opens that pretty mouth. He
swallows Tristan's tool whole. He may have not been around, but Tristan hasn't lost any of his
blowing skills.

There's more kissing and Ian even nibbles on Tristan's chest. By the way: you have noticed that
no one is naked yet, right? These are some horned up lads.

Ian keeps sucking away, making Tristan's tool slick with spit. Ian comes up for a kiss and pulls his
pants down. Keeps the shirt on. He grabs the chair and offers that luscious ass to Tristan. He lubes
up and takes what's his.

Once in, Tristan makes certain each stroke is felt. Ian bites his lip and takes the filling like a
hungry bottom boy. Tristan's pounding is steady, like he wants Ian not to forget this
moment.

There's a brief intermission for kissing and more lube to be applied to Tristan's cock. Ian gets in the
"fuck me" position and Tristan returns to his fucking duties.

They stop to make out and get rid of those restricting clothes. Ian gets on the table, on his
side. Ian finds that boy pussy again. Now the studio is filled with moaning and the
creaking from the table. Ian might be moaning, but his dick is thick and fat. Someone is happy.

Tristan leans in to give his bottom boy a kiss. Such a romantic. LOL! The fucking stops so Ian can
return to sucking his man off. You know it's love when there's ass to mouth action. :-) Tristan
grabs Ian's hair as he gets deep throated. Ian looks up, making sure there's eye contact. His eyes
are red from all the work he's done in this scene. :-)

As he blows away, Ian beats his own solid sausage. His load shoots out all over the black sheets.

He keeps sucking, doing his best to make Tristan nut. Those sperm filled nuts finally let go of a
load that coats Ian's tongue and bottom lip.

And it all ends right where we started. More kissing!