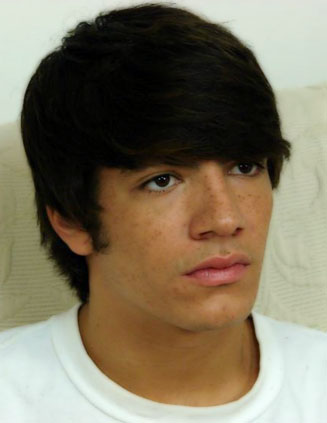 I caught Alan at the beach walking around and I told him about the work that I do. Alan came to me to do his first shoot in front of the camera to make some money to pay some of the bills that he had acquired. With him coming in I wanted him to do a test shoot, before I got him in with the girls to make sure that he was going to work out. Alan is 20, and really doesn't have a girl friend right now. However, he seemed to like having his options open. He started to get undressed and I could tell right away that Alan was in good shape after seeing his chest. With a flat, smooth, tan chest I am sure that the rest of the body will look just as nice. Dropping the pants, immediately I saw that he was wearing a pair of boxers and that his dick was hanging out. Pushing it back in he then proceeded to pull them off, so that he was completely naked. He then took a seat on the couch and began to touch himself. I was glad to see that we were off to a good start, so far.

Watching the porn, Alan was quick to get a boner for us. He would do a couple quick jerks and then pulling down slowly once. I asked him how often he jerks off and he said that it varies. Typically, he likes to do it once or twice a day, but sometimes he skips a day. In watching Alan he would wiggle and move his feet a little bit while stroking. I noticed his hair would sometimes start to cover up his eyes and he would blow on his face to move it out of the way. He looked like he could pull of a punk look if he wanted to from the body and hair style. Alan reached over to the side while jerking off to grab the bottle of lube that I had to help him be able to get closer to cumming.

As I was changing my camera angles I got down on the floor to the side of him and that is where I notice that he had a nice set of abs that were sticking out. I panned up and down to give you an idea of what his body looked like and to show you the different faces he would make while he jerked off. In watching him stroke his cock, I imagined him fucking a dude in a future shoot where he would be one that would do slow, steady strides when he fucked. Right away, I figured that would be hot and that I would have to for sure get him back in for another shoot here soon. Alan let out that he was about to cum and two seconds later a stream of hot cum shot out on his lower stomach. I pulled away and you can see the line of cum that went from his stomach up his dick. Out of breath he needed a minute to bring himself back too. I said that he would be back for another shoot with some girls in the future and he was excited. I will have to hop on the phone to see what I can line up for Alan to take part in. Keep watching to see if I can get him back in here next.