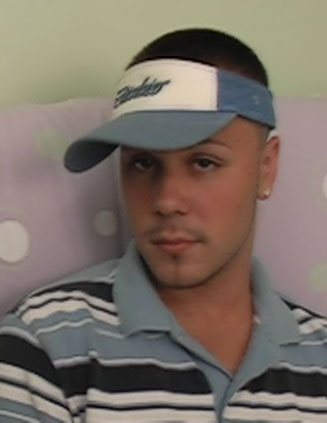 I got a call from one of my model's Angel who is gay and he said that he had a friend that he wanted
to bring in for a shoot. He told me that his friend Corey was straight and had no idea what we did. I
told them when to swing by for us to do a shoot. When the two guys arrived they took a seat on the
couch. Angel started telling Corey what they were going to do, and that he wanted some head from
Corey. Corey had no idea what was going on, because he thought he was there just to watch a shoot
go on. I then told Corey that I would pay him some money to have him mess around with Angel, and
I could tell that he was thinking about it. Corey mentioned that he had messed around with a friend
when he was little and that they just jerked off together. In talking with him, I told him that this
experience would be no different except that he was a little older and was going to make some
money doing it.

After thinking about the money on the table, Corey agreed to do some oral. Reaching over he took
Angel's cock in his hand and started to play with it. Then, he bent over and took the cock in his
mouth and started to suck. To my surprise he was doing a great job at giving oral, and I got the
impression that he had done this before. He smiled, and kept going. After a few minutes he took a
break, I asked Corey if he would keep going with the shoot. Without giving him time to think about it
I told him to take off his shirt. As he peeled it off, I noticed that he had a nice chest from playing
some kind of sport. That's when he told me that he had played some football and basketball.
Keeping everything moving along he once again started to give oral to Angel.

Corey then told Angel that he should give him head, and that is when Angel said that he had another
surprise. Pulling out a black dildo from behind a pillow he showed it to Corey, and then told him that
he wanted to put it in his butt. Corey was not going for it, and would only continue with doing oral. I
actually got Corey to show his ass to the camera and spread his cheeks for us to see his hole.
Stepping forward Corey said that he was down for Angel giving him head. I was glad that I was
going to get to see him get turned on by having a guy give him head. Corey put his hands on Angels
head and forced him further down on his cock. It turned out that Corey couldn't get fully hard with a
guy giving him head, but I didn't expect that it would.

Changing things around yet again, I was able to get Angel to give head to Corey once more, and he
jerked off at the same time. While this was going on Angel was getting turned on and that was very
good news for me. After just a few short minutes, Angel shot his load all over in front of him, landing
on the floor in between his feet. It was a good size load and a bright white color. Angel stopped
giving head and said that his jaw was starting to hurt from all the sucking. The two guys took a seat
next to each other to talk about the shoot. Joking around with Corey I told him that I pictured him as
a bottom and he disagreed with me. I thanked them for coming in and told them that it would be
good to see them again. Angel in his good-bye said that he hoped to bring another victim in for a
shoot.