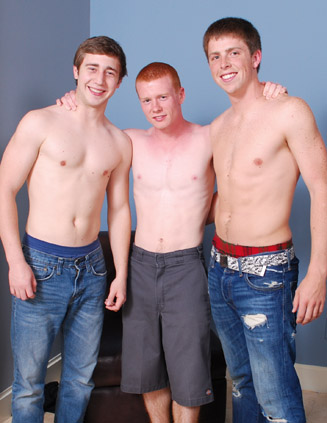 Three relative newbies are in bed together today; Spencer, Brandon and Zane. Despite all three of them looking rather nervous, all
three boys said that they were looking forward to the shoot, even if it was just the prospect of earning more easy cash. Each of the
boys couldn't help have an anxious grin when they were told that today's expectations were pretty high.Getting the party started, I
had Spencer, Brandon and Zane take off their t-shirts, their jeans quickly following. Once they were sitting next to each other
naked, they took their cocks in hand and started to jerk themselves off, their dicks steadily rising to the occasion. When all three
dicks were rock hard, it was time to decide who was going to suck dick first. It wasn't quite so surprising when Zane, our bi-curious
boy, put his hand up to go first. The three boys scrambled into position; Zane getting down onto his knees on the floor while
Spencer and Brandon stood on either side of him. Kane took one good look at the two dicks pointing towards his face, pausing for
only a second before allowing Brandon's dick to slide all the way into his mouth. What was surprising was Spencer pulling Brandon
towards him and initiating a hot and heavy song with a more than willing Brandon. While the two boys were kissing overhead, Kane
worked hard on the dick in his mouth even as he put in some fast and furious wrist action with Spencer's cock.

Swapping from dick to dick, Zane seemed to relish the taste of cock in his not so straight boy mouth. Somewhat of a multi-tasking
expert, Zane not only was sucking one guys cock while jerking another one off, he also was able to give his own dick a few tugs as
well. Diving in for another kiss with Brandon, it was clear that Spencer had overcome a lot of the discomfort he had so clearly felt in
his previous session with Broke Straight Boys. So much so, he didn'thesitate in giving Zane a small gesture when he felt it was time
to spend a while on his knees. As Kane stood up, Spencer slid to his knees, gripping a dick in each large hand. Without missing a
beat, Spencer opened up wide and started sucking on his very first dick. With a steady hand on the back of Spencer'shead, Zane
gently guided the cock newbie back and forth on his long schlong.As Spencer got acquainted with the taste of cock, Kane and
Brandon locked lips, the two boys kissing with eager passion as they were pleasured from below. Swapping from Brandon to Zane,
Spencer was taking to dick like a duck to water, Spencer bobbing back and forth even as he wanked Brandon off with a G.I. Joe
death grip. By now, all three boys were getting right into it; Spencer finding that dick sucking wasn't the worst thing in the world
while Zane and Brandon discovered that kissing another guy was pretty fun! At a word from Zane, Spencer hopped back up and
graciously allowed Kane to take control of his cock again as Zane swallowed the dick right down. As before, Zane multi tasked,
clearly comfortable with a dick in each hand even as he bobbed up and down. Meanwhile, Spencer took the opportunity to have
another flirtatious kiss with Brandon, who didn't look like he was going to say no any time soon. However, the boys reluctantly
broke apart in order for the three of them to move over to the bed again. Once they were all comfortable, it was time for Brandon to
show off his cock sucking skills. Shifting so that he was halfway down the bed, Brandon leaned in close and slowly slid Kane's dick
into his mouth before licking up and down the length of the curved shaft.

While Brandon was treating Zane's dick like a favorite candy, Zane and Spencer tried out a little snogging, the two boys trading
tongues as they got more comfortable. As he tried to deep throat, Brandon gagged but it didn't stop him from trying again. Despite
his earlier nerves, Spencer was somewhat fascinated in watching Kane's dick dip in and out of Brandon's mouth. By now, all three
boys were sweating from their extra hard work and it wasn't going to be long before one of them was going to lead the other two in
shooting their loads. While his dick was being sucked, Kane decided to make himself useful and lend Spencer a helping hand.
However, a moment later, Brandon swapped from Kane to Spencer, his shaggy head gently bobbing up and down even as the other
two boys resumed their hot and heavy kissing. Spencer reached over to return the favor to Zane, his hand tight around the shaft of
the long cock. Soon enough, it was obvious that all three boys were ready to cum so Brandon squeezed in between Big Red and
Kane. With their hands wrapped around their own cock shafts, the three of them jerked themselves off at a fast and furious rate as
they raced to be the first to cum. Mere seconds later, Brandon shot his load all over his stomach and into his pubes and was almost
instantly followed by Zane unleashing a fountain over his abdomen, the cum trickling down his hip. However, Spencer wasn't to be
left out as he came at the same time as Kane, a torrent of cum splattering over his stomach and oozing between his fingers.