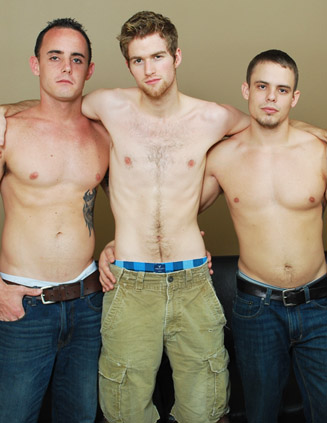 Three hotties; Blake, Ty and Denver are going to be indulging in some sweaty action together.
Getting into things right away, it
was time to start getting naked, all three of them putting a little 'sexy' into the way they stripped off
the t-shirts and joking about
having a wet t-shirt competition. Unable to help himself from laughing from his nerves, Blake sat
down while Ty went to stand
behind him even as Denver sat next to him. Together, Ty and Denver massaged Blake's cock
through his shorts in an effort to help
him relax. A moment later, Ty wiggled his hand down the front of Blake's shorts and began playing
with the half hard cock. As Ty
drew back and ran his hands over Blake's chest, Denver popped the button on the shorts and helped
Blake pull them down to his
ankles.

Opening up wide, Denver leaned over and swallowed down Blake's hardening cock even as he
rubbed his own dick through his
jeans. There was no doubt that Blake was loving what Denver was doing with his dick as he was
almost ready to crack concrete,
Blake staring down as Denver gently bobbed up and down on his rock hard dick. A few minutes later
and it was Blake's turn to
show Denver what he had learned so far.Undoing his jeans and freeing his stiff dick, Denver pushed
the jeans down to mid thigh
before sitting back and playfully giving Blake's ass a smack even as Blake pumped the hard shaft. As
Blake slid the tip of Denver's
dick into his straight boy mouth, Ty sat down next to him and immediately went down on Blake's
cock. Once again, Ty proved to
be a very noisy cock sucker as he licked Blake's dick even as Blake let Denver's cock slide down the
back of his throat. Bobbing up
and down, Ty paused for only a brief moment here and there in order to give his tongue a few
smacks with Blake's dick before
dipping down all the way to the root. Denver couldn't help but have a wide grin on his face as
watched Blake treat his dick like it
was one of his favorite treats and he certainly didn't hold back when he said that Blake knew how to
suck dick well. As both Ty and
Blake came up for some much needed air, I told the boys that it was time to do something a little
different; face fucking.

Denver helped Blake to sit on the floor before telling him to slide down a little. Once Blake positioned
correctly, Denver, with both
knees on the couch, straddled his chest and started to slowly dip his dick in and out of Blake's mouth.
As he let Blake get used to
the new position, Denver reached behind and spread his ass cheek, showing off his ass hole to the
camera while Ty knelt beside
him and stroked his own cock. I suggested that since Denver had such a nice looking hole, that
maybe Ty should try licking it.
However, Ty surprised me by saying he wasn't up for it so I asked Blake if he would do it but he was
fairly shocked at the
suggestion, Denver saying that Blake was fine with what he was already doing. Then Ty piped up,
saying he would do it for a price
negotiation so I offered him another $50, sealing the deal. Spitting on Denver's ass hole, Ty flicked
his tongue around the hole,
eliciting an excited moan from Denver who was obviously loving getting both his cock sucked and his
ass rimmed at once. As Ty
worked his magic on Denver's hole, Blake was showing off his ever expanding skill set with Denver's
cock, however, his own dick
wasn't lacking for attention as Ty slowly stroked his shaft. The minutes ticked by, the oral love fest
broken up only by my
suggestion that maybe someone might like to take a dick up the ass.

Blake was surprised but said his ass wasn't for sale even when I offered another $100, but Ty quickly
volunteered to be the one to
have his ass fucked. However, Blake wanted extra money as well and since he hadn't been in an
anal scene before, I decided to
give him another $100 if he fucked Ty, as for Denver, he was just happy to get his dick sucked again.
The boys got themselves
prepared and into position; Ty on his hands and knees on the couch with Blake kneeling behind him
while Denver stood facing Ty.
As Blake worked his cock up, Ty went ahead and started giving head to Denver, who, from the wide
grin on his face, was instantly
appreciative of Ty's oral talents. Slowly, Blake slid his dick all the way into Ty's ass, making Ty groan
around the cock in his
mouth. Blake set a steady pace, Ty grunting loudly on each thrust even as Denver got vocal in his
appreciation of having his cock
sucked. The three boys quickly worked up a sweat from all their efforts, perspiration dripping down
their faces. Despite being a
little unco-ordinated due to fucking a guy for the first time, there was no doubt that Blake was
making Ty feel every inch of his
cock as it drove in and out of his ass. His dick slipping out, Blake worked it right back in even as he
asked Ty if he was alright but
Ty told him to stop being a little bitch so Blake instantly started pounding his ass hard.

Reaching in between his legs, Ty jerked himself off as he panted hard around the cock in his mouth.
Blake was showing no mercy
on Ty's ass and Denver was definitely enjoying the show. Taking control of his cock again, Denver
put in some hard wrist action as
his hand flew up and down his shaft. A moment later, Blake pulled out, wanking himself off as he was
about to cum, however, Ty
came first, the cum splashing down onto the sofa. Next was Denver who spread his cum all over Ty's
cheek while, not to be out
done, Blake unleashed a torrent of cum over Ty's lower back and ass.