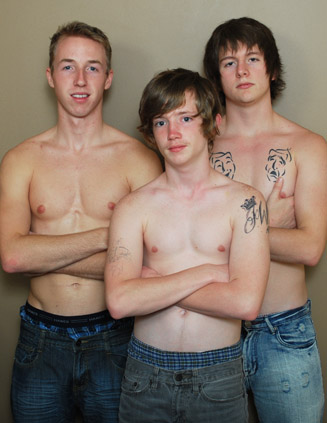 Mitch, Tim and Clayton are in the studio together and today, they will be indulging in some three way action. All three of the boys
were raring to go and as such, their clothes flew every which way in almost record time. Once they were naked, the boys sat back
down on the bed and with a dollop of lube each, they worked on getting their cocks rock hard. Like with most Broke Straight Boys,
working up a stiffy never takes long. When all three boys had dicks pointing skywards, they scrambled into their first position of
the day; Tim sitting on the edge of the bed and sucking on Claytonís cock while Mitch knelt on the floor and swallowed down
Timís dick.

Mitch bobbed up and down on Timís dick; making sure to run the tip of his tongue along the underside of the thick cock, all the
while, Mitch jerked himself off. There was no doubt that Tim was loving the blowjob from Mitch as he moaned in pleasure around
the cock in his mouth even as Clayton encouraged Tim to go deeper by gently pressing on the back of his head.It didnít take
long for both Tim and Mitch to start panting from all their hard work, both boys breaking off for a moment to lick up and down
the shaft of the dicks they were handling, Tim even resorting to the true and tested straight boy shaft pump.

Shifting things around, Mitch and Clayton swapped positions while Tim was still the filling in a man sandwich.Mitch was vocal
right from the moment his dick slipped in between Timís lips while Tim threaded his fingers through Claytonís thick hair and
hinted for him to swallow more of his dick. Clayton, on the other hand, made good use of his tongue stud as he practiced his oral
skills on Timís cock. Every now and again, much to Mitchís pleasure, Tim went deep even as Clayton did the same. However, it was
now time to get down to the main event.

The boys scrambled into their new positions; Mitch laying down on his back as Clayton straddled his hips while Tim stood up over
Mitchís head. With his ass well lubed, Mitchís cock slid up into Claytonís ass without a hitch, Clayton gently rocking back and forth
even as he swallowed down Timís long dick. As Clayton fucked himself on the thick cock, Mitch wrapped a hand around Claytonís
shaft and started to put in some hard wrist action. Pausing to gather his breath, Clayton fisted Timís long shaft, making Tim pant
in ecstasy. With his mouth full of dick, Clayton took back control of his cock and jerked himself off.

With a cheeky grin on his face, Tim decided that it was his turn to have a go at Claytonís ass. As Tim got himself prepared, Clayton
knelt on the bed and spread his ass cheeks, showing off his freshly fucked ass to the camera and playfully slapping himself on the
ass.Leaning down, Clayton slid Mitchís cock into his hot, wet mouth even as Tim thrust up into his ass. Setting a steady pace,
Timís hips snapped back and forth as he fucked Claytonís straight boy ass. Gently stroking Claytonís back, Tim angled his hips
slightly, wringing a moan of pleasure from Clayton.By now, all three boys had worked up a sweat from all their hard work and it
was only going to be a matter of a minute or two before one of them popped their loads. Reaching underneath Clayton, Tim
helped him out by stroking his cock and encouraging it to stand to attention.

Tim pulled out and rolled off the condom before jerking himself off at a hard and fast pace, all the while, Clayton lavished Mitchís
dick with attention.A minute later, Mitch indicated he was ready to shoot his load so Clayton pulled off and rested his cheek on
Mitchís thigh even as Mitch tugged on his cock. Only seconds later, Mitch sprayed cum into Claytonís shaggy hair and over the
side of his face. Watching Mitch shoot his load prompted Tim into dolloping cum onto Claytonís ass cheek, rubbing it in with his
cockhead.