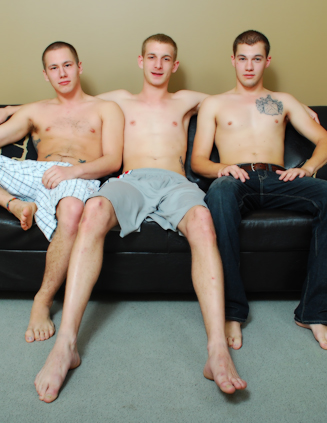 Today, we are in for a special treat as there are three extra hot boys in the studio ready to strut their stuff. Aaron and Rex are new to dick sucking but luckily for them, they have Chad to show them the ropes. Despite both Aaron and Rex being a little intimidated by what they were going to be doing in only a few minutes time, the boys were more than willing to give it a go as they both needed the extra dosh. As for Chad, well, he just likes being with his favorite lover; the camera.The three boys stood up and stripped off their clothing, dumping it on the floor. Still clad in their underwear, I told them that whoever got hard first, got their dick sucked first. Sitting back down on the couch, the boys were as quiet as mice as they worked on getting their dicks hard. Surprisingly, it was newbie Rex who got his long dick hard first, with Chad paying close attention. Unable to help himself, Chad, with a huge grin, reached over and wrapped his hand around the stiff shaft even as he asked if Rex needed a hand. Not quite sure if he liked it or not, Rex admitted that he had experimented once or twice with another guy giving him a handjob.

Licking his lips in anticipation, Chad leaned down and swallowed the thick shaft while both Rex and Aaron looked on. Right away, Chad was panting around the cock in his mouth and flirting a little with the camera. Getting a blowjob from a guy was a totally new experience for Rex but when asked, he said that Chad was doing a pretty good job so far. As Chad worked his magic on Rex, Aaron was playing with his dick, totally enthralled in what Chad was doing with Rex's dick. Licking up and down the thick shaft, Chad massaged the heavy balls before teasing the very tip with his tongue, much to Rex's delight. Rex was liking it so much, he literally tore his underwear off so that Chad had better access. I dared Chad to go all the way down and opening up wide, Chad slowly slid the cock all the way back into his throat but was only able to go a little over half way down, which on the size of Rex, was a pretty mean achievement. Now, however, it was Aaron's turn to work with cock. Tentatively grasping the dick in one hand, Aaron really wasn't too sure what to do at first but after a few minutes, he gained some confidence. Even though Aaron was complete novice at hand jobs, there was no doubt that Rex was liked what was happening as he relaxed into it even as he gently patted Aaron's thigh.

As he started to wank himself off, Chad told Aaron to give a blowjob a try. In a hesitant manner, Aaron leaned over and wrapped his lips around the tip of Rex's cock. Not quite sure what to make of the taste of another guy's dick, nonetheless, Aaron took to cock sucking like a duck takes to water. Slowly but surely, Aaron bobbed up and down, the cock sliding in and out of his straight boy mouth. Gagging as the dick went too far down, Aaron went right back to work as he got used to the taste of dick. Shucking off his undies, Aaron showed off a piercing through the head of his cock, possibly the only one ever seen on Broke Straight Boys. As Rex's dick was being lavished with attention, Chad asked if he had ever been kissed by another guy. When Rex said no, Chad immediately dived in for a kiss, Rex not even skipping a beat as he leaned forward to lock lips with Chad. With a firm grasp on Chad's stiff dick, Rex put a little tongue into his kiss and there was no doubt that both the boys were enjoying the moment.

When it was obvious that Aaron's jaw was hurting too much to continue, Chad gladly took over again while Rex groaned in pleasure. Watching Chad bob up and down, Aaron kept playing with his dick even as he gently ran his fingers along Rex's abdomen. Aaron was too eager to have another go at sucking cock so when Chad came up for air, Aaron promptly dived back down. While Aaron was finding out what he could do with a cock in his mouth, Chad and Rex started snogging again, much to each other's pleasure. Once they broke apart, Rex stood up with Chad and Aaron getting down onto their knees on either side of him. Wanking himself off, Chad lavished Rex's dick with attention, all the while, stroking Rex's hip. Watching Chad intently for some tips, Aaron took over when Chad decided he wanted to kiss some more with Rex. There was no doubt that both Rex and Chad were getting into it as the kisses became more heated and deeper. By now, all three boys were panting from their hard work and were dripping in sweat. Taking over again for cock sucking duty, Chad went deep while Rex ran his hand over Aaron's cropped hair. Aaron and Chad swapped back and forth on Rex's dick, each of them putting in some hard wrist action with their own cocks.

In a daring move, while Rex and Chad traded tongues, Aaron was able to almost deep throat the length of Rex's cock. The three boys were getting more and more turned on as the minutes ticked by and it wasn't going to be long before one of them announced that they were ready to cum. Suddenly, and without a sound, Aaron came, shooting jets of cum into the air and onto the carpet. Chad asked Aaron if he had ever 'snowballed' before and of course, Aaron said no so Chad explained what it was. Even though Rex said he had never gotten off from pure head before, Chad rose to the challenge. Slapping his cock against Chad's tongue, Rex was panting hard as he got closer to cumming. Jerking himself off hard, Rex put the tip of his cock in Chad's mouth and a moment later, Chad had a mouthful of cum. Locking lips with Aaron, the two boys kissed as they swapped the load of cum. As they broke apart, Aaron let the cum dribble down his chin.